Mechanism of metal biosorption:
Adsorption and desorption studies invariably yield information on the mechanism of metal biosorption: how is the metal bound within the biosorbent. This knowledge is essential for understanding of the biosorption process and it serves as a basis for quantitative stoichiometric considerations which constitute the foundation for mathematical modeling of the process.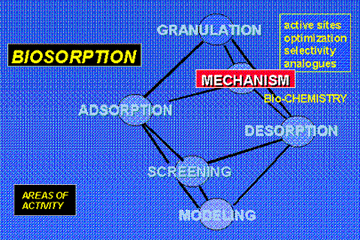 Understanding the mechanism of biosorption is important even for very practical reasons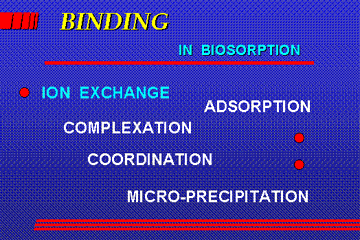 While other mechanisms might also contribute, ion exchange prevails
A number of different metal-binding mechanisms has been postulated to be active in biosorption such as:

- chemisorption: by ion exchange, complexation,
coordination, chelation;
- physical adsorption, microprecipitation.

There are also possible oxidation/reduction reactions taking place in the biosorbent. Due to the complexity of the biomaterials used it is quite possible that at least some of these mechanisms are acting simultaneously to varying degrees depending on the biosorbent and the solution environment.

More recent studies with fungal biomass and seaweed in particular have indicated a dominant role of ion exchange metal binding. Indeed, the biomass materials offer numerous molecular groups which are known to offer ion exchange sites: carboxyl, sulfate, phosphate, amine, could be the main ones.

When the metal - biomass interaction mechanism(s) are reasonably understood, it opens the possibilities of:

- optimizing the biosorption process on
the molecular level;
- manipulating the biosorption properties of
biomass when it is growing;
- developing economically attractive
analogous sorbent materials;
- simplifying and effectively guiding the
screening process;
- 'activating' biomaterials low-level
biosorbent behavior.

Simple and economically feasible pretreatment procedures for suitable biomaterials may be devised based on better understanding of the metal biosorbent mechanism(s).